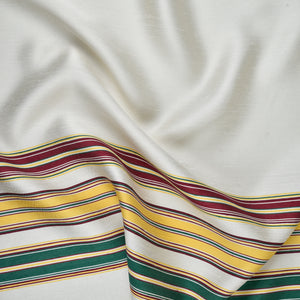 A colour voven quality which mixes Shantung viscose and silk, offering new structures and weight, suitable also for Summer tousers.
Possibility of customization.
Made following the TAIANA RRR process: Reduce, Reuse, Recycle.
TAIANA RELYFE, to meet the global demand for eco friendly fabrics.
RELYFE eco-sustainability project: warp-set enitirely made of GOTS certified ORGANIC Silk.
Technical Data
88% Viscose, 12% Silk

weight: 110 gr/m2
width: 150 ±3cm

Minimum Order Quantity
minimum for sampling: 20 mt/col
minimum for bulk production: 100 mt/col