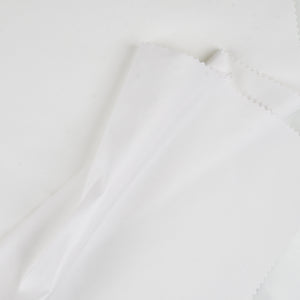 Fabric for Swimwear e Beachwear, Athleisure and Outwear EasyCare.
PFP - PFD, rigid.
Greige woven fabrics ready for printing and for dyeing. The very dense structure grants a UPF factor of 50+, quick-drying time and chlorine resistance. Thin, light, no see-through.

Eco-friendly Premium Fabrics.
REACH compliant.
Made following the TAIANA RRR process: Reduce, Reuse, Recycle.
TAIANA RELYFE, to meet the global demand for eco friendly fabrics.
Technical Data

100% Polyester
weight: 113 gr/m2  
width: 150 ±3cm

 
Minimum Order Quantity
minimum for sampling: 20 mt/col
minimum for bulk production: 100 mt/col